Premier League 2 (Division 1)
Friday 3rd March 2017
Kick Off 19.00 Actual 18.59
Manchester City U23 3 Everton U23 0,  attendance 650
66′ 1-0 T. Ambrose
71′ 2-0 Brahim Diaz
77′ 3-0 J. Sancho
@ Academy Stadium
Etihad Campus North Gate
400, Ashton New Road
M11 4QT
£3 Admission, On-line Ticket
Team Sheet, free.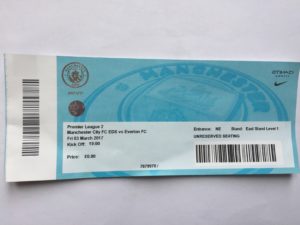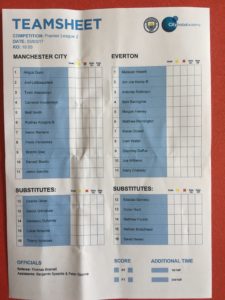 With no cash sales, or tickets available at the stadium, you have to register and buy tickets for these games on-line. As I was unable to gain access to a printer, I had to collect my ticket from a portakabin outside the entrance.
I had left home six and a half hours before kick off, but even with Friday traffic hadn't expected it to take 5 hours 52 minutes to drive the 225 miles. On arrival, I was directed to the 'Blue Parking', which is on the far side of the Etihad Stadium from the Academy Stadium, and although free to park, it is around 15 minutes walk, crossing the main road via a footbridge, which leads you to the northwest corner of the stadium, where your ticket can be collected. The only entrance on matchday is on the corner of the North and East (main) Stand, the latter being the only stand open tonight.
As it was pouring with rain, I was already soaked by the time I got here, so didn't bother attempting to take any photos of the exterior. At least inside, unlike at Brighton & Hove Albion on Monday, there was no hostility towards spectators and there were no problems whatsoever with taking photographs.
This is a really impressive stadium, having opened in 2015, with a capacity of 7,000. Not sure what chance they have of filling it, as although tonight's official attendance was 650, it was probably only half of that. Perhaps the Manchester City women's team, who also play their matches here, get more watching ? I had previously seen a Manchester City Reserve fixture played on the Regional Athletics Arena, which is the opposite side of the main stadium to the new ground. Oddly, it was also Everton who were the visitors, in a 2-2 draw on 26th October 2004. The crowd that night was 863.
Despite it raining for the entire match, the pitch was in immaculate condition. The game itself was 2nd v 1st, the gap now down to 3 points, but never looked like producing a goal, then when the deadlock was broken it looked like City would score with every attack.
The walk back to the car was again in rain, although much lighter than the rest of the evening. The drive home was also much better, taking a shade over 4 hours, including two stops.