Belgium
Namur Provincial 1
Sunday 19th March 2017
Kick Off 15.00 Actual 15.01
R. Anhee F.C. 0 U.S. Pesche 2,  attendance 65
3′ 0-1
4′ 0-2
@ Complexe Sportif d' Anhee
Rue du Petit Bois
5537 Anhee
€6 Admission
No programme. (Team Sheet only available to Press).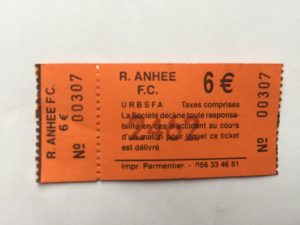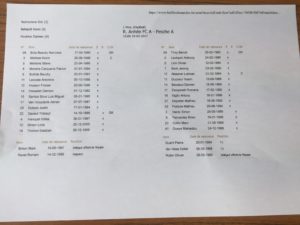 Well, over half the crowd will have missed the two goals today, as there were barely more than a dozen spectators there at kick off.
It was a real relegation battle. Anhee are well bottom of the league, but had won two of their previous three games. Pesche are third bottom, so will have been looking at this as a good opportunity to pick up three points to aid their fight in avoiding the drop.
After less than five minutes it was game over. A goal at any stage for Anhee may have improved things, but that never really looked like it would happen.
As ever in Belgium, you never know what type of ground you are going to stumble across, as there are no requirements for seats or covered accommodation, whatever level you play at in Provincial football. Not a ground that will live long in the memory, apart from the fact that it was the 750th ground I have now seen a match on in Belgium.