Rugby Football League
League 1
Sunday 5th March 2017
Kick Off 14.00 Actual 14.02
Oxford 40 Hemel Stags 12,  attendance 100
@ Tilsley Park
Dunmore Road
Abingdon
OX14 1PU
?? Admission
Programme, only available as a download. Printed off as 26 pages, A4 size.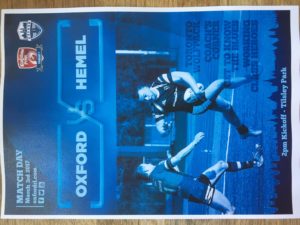 My first rugby league game of the season and where better to start than a battle between two hotbeds of the game…..Oxford and Hemel Hempstead !
I had already noted from the Oxford RL website that there would be no programme today, although it was available as a download, which defeats the object really. Arriving at the ground I was charged £3 to park my car. I then went round to the far side of the stadium to take a few photos, before taking my place in the stand. No evidence of any admission being charged and no one came round to collect any money, which seems odd at this level. Perhaps with such a poor crowd, they didn't bother ? I don't think there was even one away supporter here, which again was odd, as this is one of their nearest games. Is there really any point in these teams trying to take rugby league from the traditional northern heartland.
Despite plenty of rain, there was going to be no problem concerning the pitch, as it is 3G. It doesn't look right when all the kits are still in pristine condition, rather than muddied up as the tackles go in.
Hemel both opened and closed the scoring today, but were woeful in between, as Oxford ran in 40 unanswered points. It was 24-6 at halftime and it took 19 minutes of the second half before they added to it.