Belgium
West Vlaanderen Provincial 2A
Friday 15th September 2017
Kick Off 20.00 Actual 19.58
K.F.C. Meulebeke 1 K.S.V. Diksmuide 1,  attendance 149
23′ 1-0 (pen)
38′ 1-1
@ Dr. Leo Abeele Stadion
Inglemunstersteenweg 11
(entrance via Ter Borchtlaan)
8760 Meulebeke
€6 Admission
Team Sheet, free.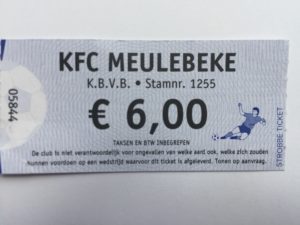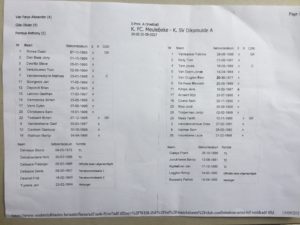 This was 6th v 1st. Diksmuide have played as high as the third division of the Belgian League and were relegated back into the Provincial league less than 10 years ago.
Diksmuide had a player sent off for a handball that led to Meulebeke taking the lead from the penalty spot, but they were well worth the draw, and even had a second player red carded in the last minute for an over the top tackle.
Delayed both ways on The Tunnel……9 minutes late going out, due to a re-timed schedule, then 7 minutes late on the return, this time thanks to the UK Passport checks causing massive queues, despite the time of night. It doesn't help when only one booth is open !