Northern Premier League
Division 1 North
Tuesday 19th September 2017
Kick Off 19.45 Actual 19.46
Scarborough Athletic 4 Mossley 1,  attendance 819
5′ 1-0
45′ + 2, 1-1
59′ 2-1 (pen)
71′ 3-1
90′ + 1, 4-1
@ Flamingo Land Stadium
Scarborough Sports Village
Ashburn Road
YO11 2JW
£10 Admission
£2 Programme
20p Team Sheet.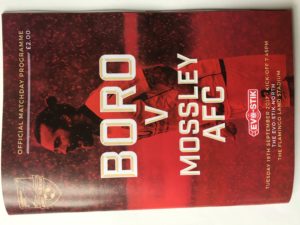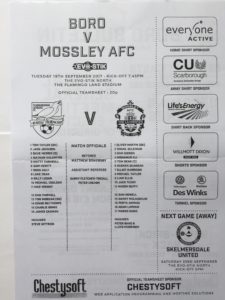 Back on 14th October 1989, I visited the McCain Stadium, in Seamer Road, when I saw Scarborough 3 Grimsby Town 1, attendance 2,828, in Division 4 of the Football League. Since then, Scarborough were wound up in the High Court in 2007 and the stadium was also to disappear and the site is now a Lidl supermarket.
Scarborough Athletic were then formed, competing in the Northern Counties (East) League, playing their home matches at Queensgate, home of Bridlington Town, some 18 miles down the coast. This year they have 'returned' to the town, at their brand new 2,070 capacity (250 seats) stadium, complete with 3G pitch.
Quite what sort of view spectators would actually have if the attendance was anything near the quoted capacity is hard to say. Tonight, with just over 800 here, it wasn't great. It is quite clear that if the club are to progress, the stadium will need quite a bit of work to accommodate increased numbers through the gate, but it will get them by in the mean time. Of course, they might never get back to the heights of the Football League.
It was a good job Boro scored early, as Mossley looked content to play for a 0-0 draw. They still lacked adventure having conceded so early in the game and the eventual 4-1 score line was a good reflection of the way the game went. Goals number three and four for the hosts were superb strikes. I would go as far to say that this was easily the best match I have seen this season and it kept the interest throughout, despite the visitors negative attitude.
£10 admission is a bit steep for this level of football, in my opinion, and the programme is rubbish for £2. It was nice to park at the stadium for free and it took less than five minutes to get away afterwards. At least the Northern Premier League is re-completed.