Northern League
Division 1
Wednesday 20th September 2017
Kick Off 19.45 Actual 19.47
Stockton Town 0 Marske United 3,  attendance 415
10′ 0-1
66′ 0-2
71′ 0-3
@ Bishopton Road West
Stockton-on-Tees
TS19 0QD
£6 Admission
£1 Programme, 16 pages.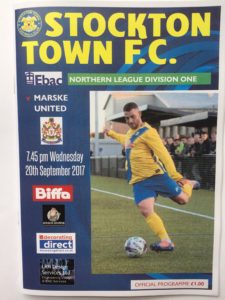 I had visited Bishopton Road West to watch Stockton Town when they were members of the Wearside League ( 12th March 2011, 1-2 v Darlington Cleveland Bridge, attendance 20) when they played on a grass pitch about 300-400 yards from the clubhouse. The clubhouse is still in use, but they have now moved to a 3G pitch in another part of the complex. When entering the car park, the new ground is in the near left hand corner, whilst their old pitch, which is still used by youth teams, was through a gate in the far right hand corner of the car park.
Stockton have been a club very much on the rise since my last visit. They won the Wearside League for four consecutive seasons from 2012/13 through to 2015/16, then won Northern League Division 2 following their promotion. Two Wearside League Cups, two Monkwearmouth Charity Cups and the Shipowners Cup were also won during this period.
This season has seen them struggle a bit, losing their first eight matches of the season, but they have got off the mark by winning their last two league fixtures, which currently sees them sitting 19th in the league table (fourth bottom), whilst the visitors were fifth coming into this game. The early goal by Marske settled them down and the victory was very comfortable.
The ground is awful, sadly the case for so many of these 'functional' stadiums that are now replacing those that had some individual character. There are too many areas around the pitch where spectators cannot stand and far too many poor sight lines, especially with the number of spare sets of goal frames leaning inside the pitch barrier.
Apparently, tonight set a new record crowd for a Stockton Town league match, although they did better it with an even more impressive 432 for an F.A. Vase tie. The ground, in its current lay out, would not offer great viewing if crowds increase much more on this, although with the team now struggling a bit, the increased numbers may also level off.
Even with a good run, it was still 02.15 when I got home, but at least the Northern League is completed once more.